Specialties
Política de seguridad
(editar con el módulo de Información de seguridad y confianza para el cliente)
Política de entrega
(editar con el módulo de Información de seguridad y confianza para el cliente)
Política de devolución
(editar con el módulo de Información de seguridad y confianza para el cliente)
This product is not available at the moment
Alpha-Lipoic acid, also known as thioctic acid or ALA in the short version, is a fatty acid with strong antioxidant properties. ALA it´s involved in several metabolic processes as cofactor, so it´s important to maintain good levels of this substance.
Some of the alpha lipoic acid can be ingested in the diet and some can be synthesised by the body itself.
ALA is present  in  foods generally  bound  to  protein  (lipoyllysine),  at  very  low  concentrations  (around 0.3 mg/100 g  for  the  richest  natural  sources,  i.e.  spinach  for  vegetables  and  kidney  for  meat), so if its health effects are to be enhanced, it is necessary to take it as a dietary supplement. 
Its chemical nomenclature is 1,2-dithiolane-3-pentanoic acid. As a sulfur containing substance, ALA is considered a thiol compound. ALA exists in two optical isomers forms, R and S. After oral intake, ALA is absorbed by the gastrointestinal tract and is transported to different organs such as brain because it has the potential of freely cross the blood–brain barrier.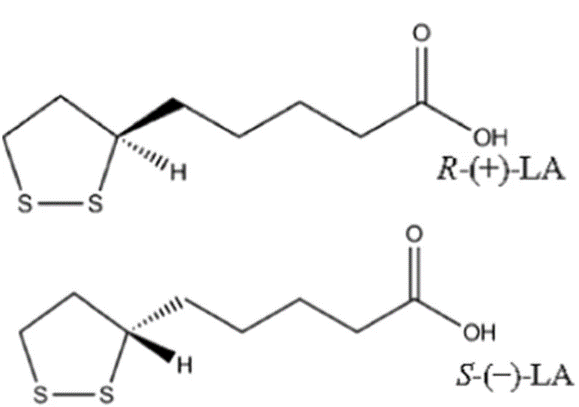 Naturally occurring alpha lipoic acid is found in its R-form bound to proteins, whereas in supplements lipoic acid is often found in free form. Commercial forms can be found containing only the R-form of lipoic acid or combined forms of R and S. It appears that the R-form is more biologically active and is absorbed to a greater extent. However, there are clinical evidences where combined forms have been used with very good results.
ALA is considered a powerful natural antioxidant agent. Unlike other antioxidants, alpha lipoic acid has the ability to act in both fatty and aqueous media. This characteristic gives it a great advantage over other antioxidants.
MOST EVIDENCED BENEFITS (The why!)
There are clinical evidences showing benefits using alpha-lipoic acid for nerve pain in people with diabetes. It is also used for obesity, altitude sickness, aging skin, high levels of cholesterol or other fats in the blood, and many other purposes.
Please consider this information is meant to general knowledge about the ingredient ALA , not replace advice from your doctor or healthcare provider and is not meant to cover all possible uses, precautions, interactions or adverse effects. This information may not fit your specific health circumstances.
*The US FDA has not evaluated these ingredient claims. The nutraceutical ingredient is not intended to diagnose, treat, cure or prevent any disease.
Data sheet
Other name

ALA

Origin

ALA is present in foods generally bound to protein (lipoyllysine), at very low concentrations (around 0.3 mg/100 g for the richest natural sources, i.e., spinach for vegetables and kidney for meat).

Functional benefits

• For nerve pain in people with diabetes.
• Lower blood sugar levels, reduction inflammation, slowed skin aging, and improved nerve function.
• Used for obesity, altitude sickness, aging skin, high levels of cholesterol or other fats in the blood, and many other purposes.

Others

It's made inside the mitochondrion — also known as the powerhouse of cells — where it helps enzymes turn nutrients into energy